We started our bicycle touring around the world on January 8th from London. We went to France and continue to Spain and Portugal for after that follow direction to Asia and America.
Our route so far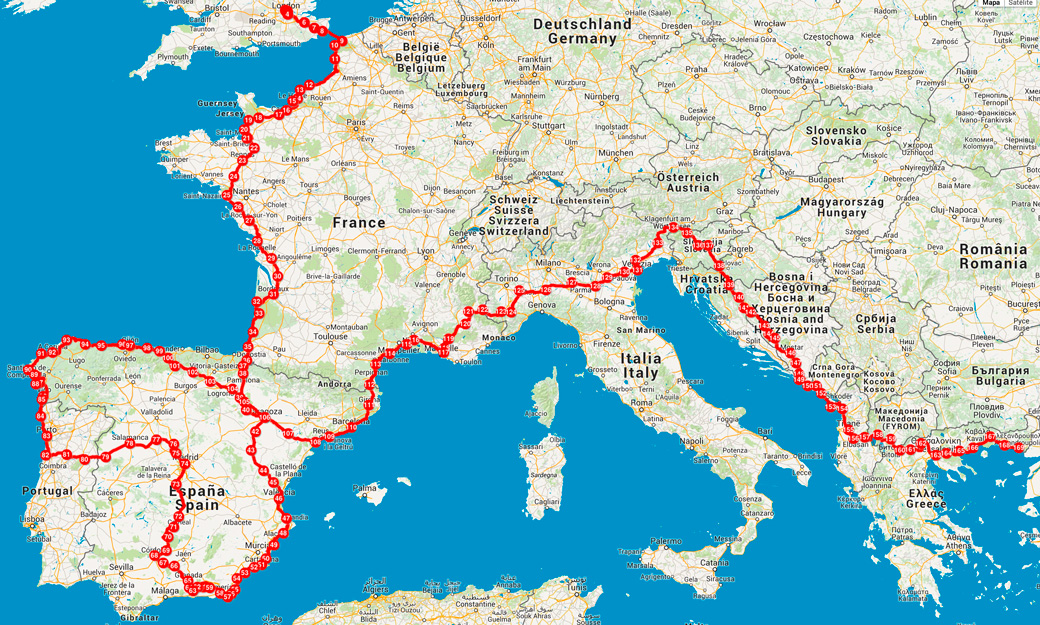 See the full size and detailed map here.
As we will not race around the World, go through the shortest route, neither look for shortcut; this trip will take years. We seek to explore, discover and get to know those countries we visit; not to go just from point A to point B.
New birth.
January 2011: I started to travel. My plan was to make a few short trips during the year, my plan failed. I got caught by the travel bug, I started to join the dots and I didn't come back home; I just continue backpacking on Europe. In a couple of months I replaced my first low cost flights for my thumb. I started to hitchhike.
"I hitchhiked more than 20.000 km, I put my feet on 25 countries thumbing up."
Hitchhiking I covered thousands of kilometres, always without real plans, usually without map. I enjoy uncertainty, I still do. Reach a new country, a new currency and a new language without any previous research boost my adrenaline, make me feel life.
Ilze, we.
The road lead me to Riga, to meet Ilze.
We started to travel together a month later and we continue our adventures around Europe and Morocco, until we flew to SE Asia at the end of 2011.
Southeast Asia.
We traveled for 6 months on Southeast Asia. We tried to live life as locals do. We tried to eat where locals do. We tried to move as locals did. We took songthaews and tuk-tuks, we rode, we cycled, we walked.
Singapur, Malaysia, Thailand, Laos, Cambodia and Vietnam changed our perception of life.
England.
We stopped, worked and saved during year and a half. Considering that Ilze doesn't speak Spanish and I don't speak Latvian, we needed a neutral place where to work, save and plan our upcoming bicycle expedition.