Gear to cycle around the world
Kit list for our around the World multi-year journey by bicycle.
Our bicycles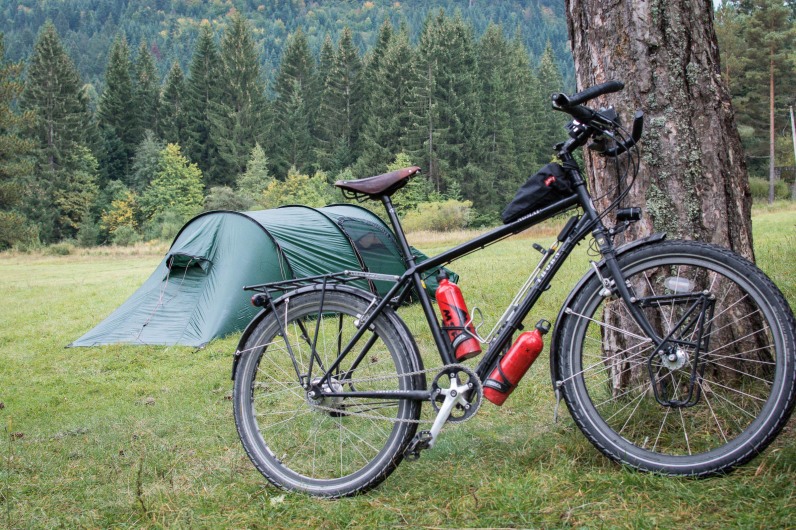 Touring bicycles Thorn Nomad MK2.
26 inches Schwalbe Marathon Mondial tyres.
Son dynamo on the front hub with eWerk for adapting the current and charging by USB.
Rohloff inner gears.
Flat pedals Shimano Saint MX80.
Mirrors in the handle-bar from Mirrycle.
Thorn racks front and rear.
Panniers and dry bags
Fully waterproof panniers Crosso Expert.
Ortlieb handle bar bag.
Alpkit Fuel Pod bag over top tube.
Extra dry bags from Alkit and Exped.
Random straps and Topeak cargo net to keep everything together over the racks.
Camping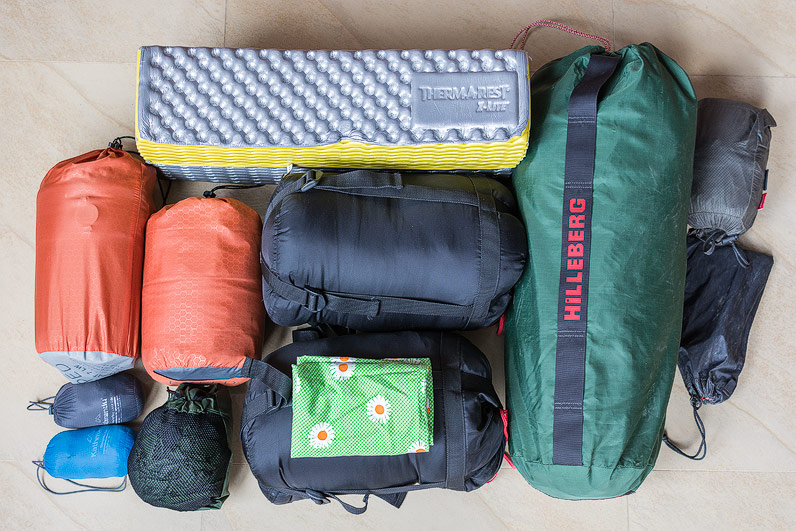 Tent Hilleberg Nammatj 3 GT, 4 seasons tunnel tent.
Goose sleeping bags Alpkit Pipedream 600.
Silk linens to keep our sleeping bags clean -or not even dirtier- and have one extra layer to play around with in colder/warmer weather.
A pillow cover, we fill it up with clothes.
Exped Synmat 7 inflatable sleeping mats.
ThermaRest Z Lite mats.
Tarp Alpkit Rig Kelp.
Bivy bags from Alpkit: Hunka and Hunka XL.
Cooking and water supply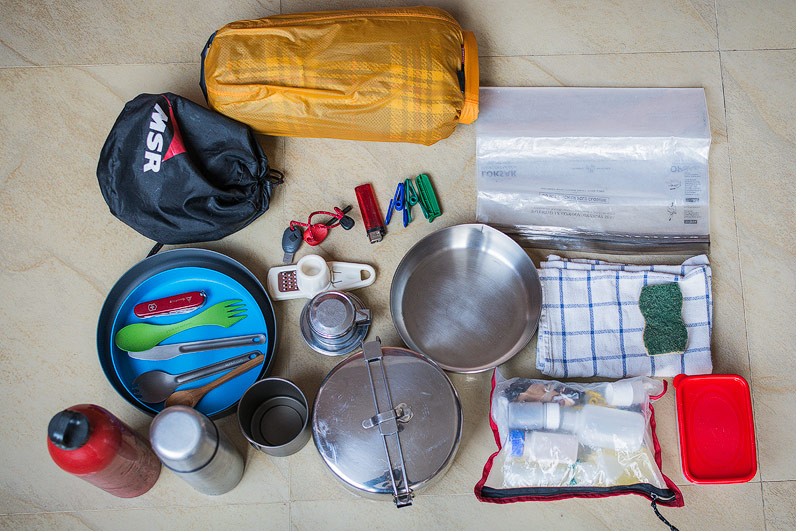 Multi-fuel MSR Dragonfly stove.
Pans and pots.
Ortlieb sink.
MSR Dromedary water bladders (10 liters and 6 liters)
Water filter Sawyer Point One 3-Way.
Odor-proof Opsak bags.
Gadgets
Smartphone.
Laptop and tablet.
Kindle 3G.
Camera DSLR Nikon D7100 and a bunch of lenses and tripod.
Anker power station batteries.
Anker 40W 5-Port Family-Sized Desktop USB Charger.
Anker solar panel.
Clothing
Merino baselayers from Icebreaker.
Helly Hansen Warm Freeze thermal baselayer.
Goose jackets.
Windproof jackets.
Waterproof clothes.
Bestard Goretex shoes.