Our experience in Singapore
Crossing the border between Malaysia and Singapore was quite fast, although it was quite puzzled when we were returning to the bus.
When we reached the Malaysian passport control we were thrown from the bus by the driver without further explanation, and after passing the Malaysian border, we found two exits for the bus parkings. What was ours?
Fortunately we found our bus in the first one we hit, and we got just in time to change buses for going to Singapore downtown.

There we met a very nice married couple, an American specialist in culebras and one Indonesia nurse. We were invited to lunch and we talked for a while.
Our three nights in Singapore we were with our couchsurfing host, an Indian who had been several years living and working in Singapore. Like the Indonesian American couple, we were particularly stressed by the need to use Singapore to test all kinds of cuisines.
After using an ATM we had to get used to the new currency:
1 Euro is 1.71 Singapore dollars.
The problem with the suggestion that people made us about the food is that Singapore is not so cheap for us, we were not in Malaysia anymore, and of course that wasn't Thailand. We were already used to spend 6 Malaysian Ringgits per meal (1.5 €) and there were around 4 or 5 Singapore dollars for smaller amounts. Due to the high price of renting in Singapore, ​​the food price seems to be nothing for them.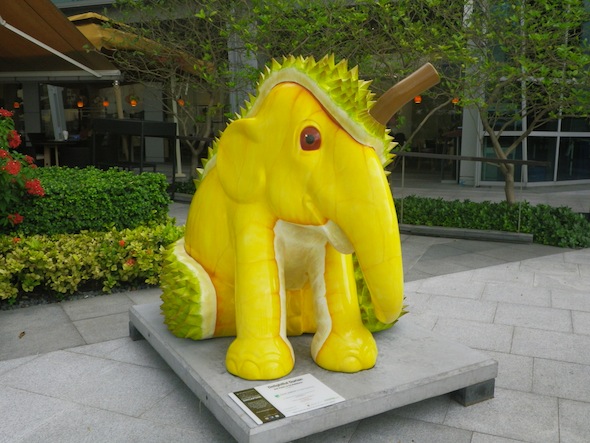 The best places to eat cheaply and decently in Singapore are China Town (if you like Chinese food, although in the Food Court you could find other cuisines) or Little India (to enjoy the delicious Indian food).
Singapore is a fairly large city that, unlike the major European capitals, is not pedestrians friendly. Walking around town is an ordeal, the road is huge, heavy traffic and traffic lights doesn't get green for long time.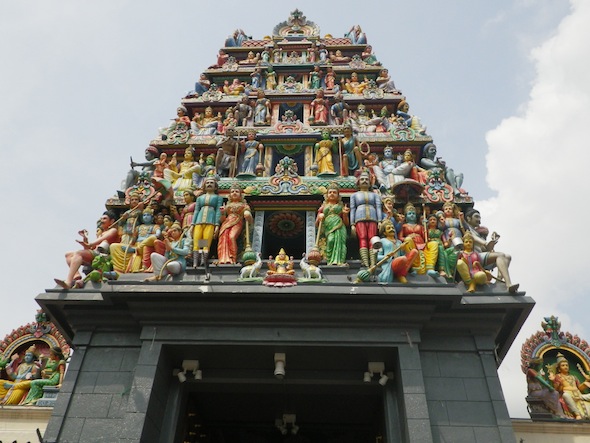 In many cases, to move to the other side of a block you have to cross through one of the many shopping malls. All these troubles will just repeatedly forced to take public transportation, it's something our budget will regret.
In 3 days in Singapore we had to spend 17€ on city train, which is a real problem. And it's even when Ilze used a borrowed paid travel card for getting it cheaper! Undoubtedly, if you are spending several days in Singapore, you will end up compensating pay 5 or 7 dollars (I'm not sure because we didn't buy it) the card costs: you will redeem it.
The rains are frequent, but are not even annoying due to high temperatures, it is generally appreciated for refreshening. It was funny when, asking directions to take the subway, one guy told us to wait for the rain to stop to walk about 400 metres. We are not made from sugar!
The limited space available to expand Singapore forces its government to buy sand to nearby countries, which used to extend its shores. Lots of skyscrapers near the sea are built over land that did not exist ten or twenty years ago! Currently different lobbies are pressuring the neighboring countries not to allow the sale of sand to Singapore, they fear its fast growth.
The construction plan of Singapore is studying the millimeter, 40-year plan expansion view of the city is considered and is reviewed every 10 years to make sure everything is square.
Something that stands out in Singapore is the inordinate amount of posters that flooded with bans the city, wherever you go you'll find these posters as well as video monitoring. In addition the police are trigger-happy, so it is a very safe country … as long as you're not the one causing the trouble.
During the 3 days we were in Singapore we spent 42 euros, almost the same in urban transport than in food. We hope this will be the last time the transport is a considerable expense during our Southeast of Asia time.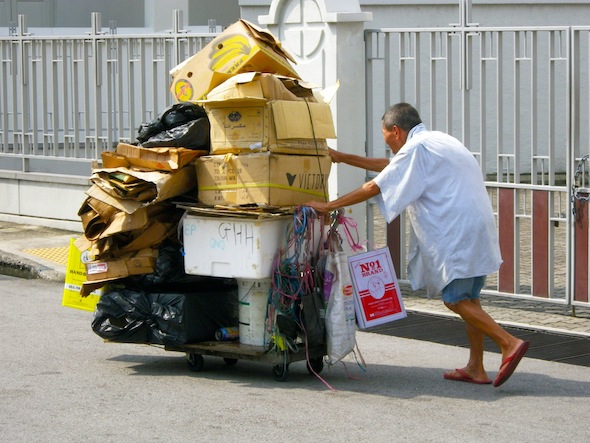 From there we flew to Bangkok with Tiger Airlines, a low cost company. Just a few days before we found an offer for about 40€ per person, including taxes, so we decided to head to Thailand for enjoying a better weather and cheaper prizes.