Northern face of Ko Samet
We walk during one hour through several beaches until we got to Hat Sai Kaeo. There we met with our couchsurfing friends and, after leaving with them our backpacks, we search for accommodation. This way we could spend a few more days in the island without having to sleep on the beach.
Finally we found a nice and cheap house with electricity, fridge, TV and bathroom attached; out of the noisy bar area and still near to the beach. It cost us 300 baths per night and we stayed there 4 days.
1 euro is 41,2 Thai baths So 300 baths are around 7,5€.
Life in the siland is quite monotonous; fun is based on relax and sun, beaches and sea. But it was more than enough for disconnecting after one stressful week in the busy Bangkok.
Food is not that good as in Bangkok, neither so great prices; but the offer is great compared with the Southern part of the island. We tried almost all the local restaurants around the beach, town and pier; and a couple of days we bought fruits such as mango or watermelon for avoiding the consume of rice and noodles.
We found this restaurant with such an incredible offer! They made the biggest pizza of the island, 50 centimeters diameter, and if you would finish it in less than 1 hour you would get it for free!
Sounds so great that I wanted to ask if it was very spicy, or what kind of trick was it; cause I was sure it would be easy to eat it. But it was always closed. Probably any other guzzler ruined them before I arrive.
In the town there were two 7 Eleven, so we could get coffe shakes and pastries at the same price than on mainland. It was great because the mini-markets close to the beaches were very overpriced.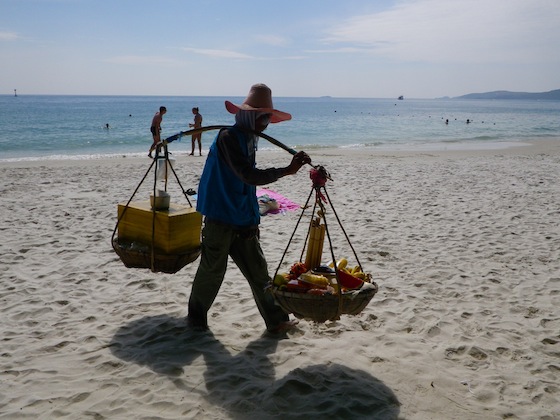 The worst part during these days was figure it out that the pipes in the town were rusty, and the water coming from the showers was yellow and had a disgusting metallic taste!
Happily we found out that some of the resorts on the Southern part of that beach had clean water, so we were sneaking in those showers daily, cause we didn't want to go away from Ko Samet looking like the Simpsons.
Finally, and after one week in this island; we decided to go back to Bangkok for picking up our passports from the Vietnamese embassy and, after that, head to Laos.
On our Facebook page you can find more pictures about Ko Samet!