One month in Laos
Laos is a landlocked country in South East Asia, bordered by China, Myanmar, Vietnam, Thailand and Cambodia. The oficial name of the country is Lao P.D.R, officially meaning Lao People's Democratic Republic; but after one month in this place we agree to define it as Lao Please Don't Rush.
Lao people, and life in Laos, takes time for any activity they have to realice. If you go to a shop to buy some cookies, to one restaurant to order sticky rice with veggies or to one guesthouse to ask for rooms, you will always get to wait for a while. Having a plate in a restaurant will take you half an hour easily.
Most of them have a basic subsistence economy and for them has no sense our hurry. It's their way of life, and after a couple of weeks you get used to and you forget too the Western standards
Laos is a country of smiles. Without any doubt is the most original and real place where we have been, where one smile is autenthic and not a prelude for asking you money or offering their for-paid services.
Walking, cycling or motorbiking around the country give you lots of salutes, being usually in local language: Sabaidee! Sabaidee! Kids, babies, moms and dads wave you when you pass by.
The national drinks are the Lao Lao, a kind of rice whisky; and Beer Lao, the local brand of beer. Any meal in Laos should come with a bucket of sicky rice, which they tighten in their fists and use as we do with bread. In the most remote places your only meal option could be noodle soup with any almost-raw meat.
Driving motorbike without helmets neither license is the usual thing; seeing constantly 10 year old kids on motorbikes, and carrying with them another two or three buddies is a risk you will not be able to avoid. Get used to find bikes with four or five people on it.
The public transport is not much better, it's very slow and the cargo area will be shared between your backpack and tons of alive chickens and pigs. The stops in the local buses are constant and the trip usually animated by karaoke videos on the TV and speakers of the bus, a nice detail for making your sleep easier.
The bedding of the hotels and guesthouses is very particular in Laos. In any double room, you will usually find one huge and wide towel; if you try to take it to the river for pic nic, may be you will be stopped by the staff and be explained that's a a blanket! We got to call them Lao tankets.
In the top of the bed you will have to deal with the pillows: one is hard and high, the second one is much harder and higher. Probably you will have a pillow fight with your loved one every night for deciding who get the "softer one".
The oficial currency in Laos is the Lao Kip, but Thai Baths are accepted everywhere with a fair exchange rate: 10.000 kips are 40 baths, what would be something like 1 euro. If you pay in baths you will get the change in kips and, sometimes, even the opossite depending on the area where you are.
Our arrival to Laos was from Thailand, and our route by local buses and songthaew, which are local pickups fulled by passengers, pass through Pakse, Champasak –where we cycle to Wat Phu-, Don Det –one island on the Mekong river-, Tad Lo and Thakhek.
In this last city we rent a motorbike and make the loop around the center of the country, where we enjoyed a boat trip through the 8 kilometers long cave of Konglor and a homestay night at Ban Natane, one isolated town with the cave as only access.
Back to Thakhek we used again the local transport for going to Vientiane and Vang Vieng, and back to the center of the country for crossing to Vietnam using the border crossing of Lak Sao.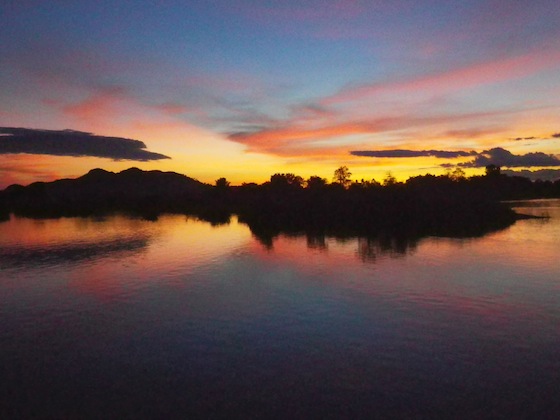 One month full of experience, sharing smiles and sabaidees, eating sticky rice, fighting for the softer pillow and enjoying colourful sunsets.