Southern beaches of Ko Samet
The ferry trip from Ban Phe to Ko Samet was short and simple, the port was a few steps from our hostel, so we just walk there and pay for the tickets before getting in our boat.
There were two options, going to the main port in the North face of the island (To Ban Phe Pier); or heading directly to the Southern part of the island, concretely to Ao Wong Duean beach, more or less in the center of Ko Samet.
We chose this second option because we have read the South of the island was quite untouched and quiet, not like the party backpacker resort of the North. Tickets for these two destinations were just 10 baths difference and we saved our energies of walking all through the island.
Did you got used to the exchange euro/bath? 1 euro is 41,2 Thai baths. So 10 baths are less than 25 cents of euro.
This island is considered Natural Park, and because of the necessary preservation Thai government charges visitors with a 200 baths fee. When you arrive and see how resorts are everywhere, and how trash is around, you get quite pissed off about that.
At Aow Wong Duean we started to haggle and bargain bungalows prices, our surprise come when the cheapest ammount we were getting was 400 baths/night, and in one of the touristic beaches where we didn't want to stay.
The explanation for the overpriced bungalows was the moment we chose for going there, it was a long weekend holiday, so a lot of people from Bangkok was coming to Ko Samet increasing prices.
Because of that, we continue walking South until we reached to one peaceful and quiet beach named Ao Wai. We decided to spend there the night, but not in the private resort, directly on the beach with a mosquito net tent we bought during Ban Phe festival for less than 200 baths.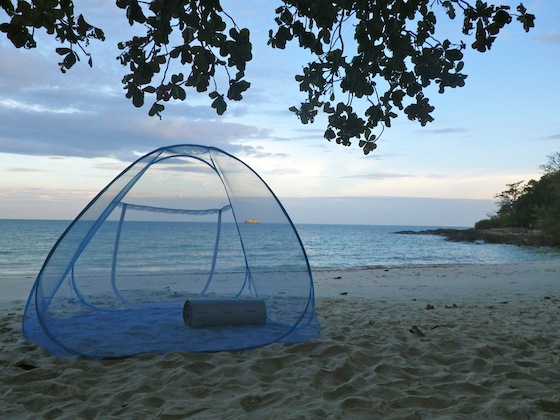 The idea seemed perfect and the weather was great, but unfortunately we were kicked out of our small paradise. The beach was property of the private resort and when it got dark the owner ask us to leave and search for any other place to crash.
We came back to the previous beach and we went back to the sand, but we noticed that the tide was going to cover all the beach during the night, so we should put the feet closer to the sea than our head for having time enough for moving away.
At 4 am, as we predicted, we had to pick up our things and find another place cause water was reaching our toes. We were lucky enough to find one mound of concrete completely flat where we could put our camping mattresses and tent, providentially there was even one open public bathroom, so we could even take an early morning shower.
Our second day in the island was quite relaxed, we came back to our favorite beach and we spend the time between the sand and the sea. After sunset we got back to our piece of concrete for sleeping a second night for free.
Restaurants in this area of the island were pretty expensive, but we found one with good food and best prices; so we could enjoy pad thais or stir rices for 60 baths, or mix fruit shakes for 40 baths. We became loyal costumers.
On our third day we decided to explore the Northern part of the island and meet with one couchsurfer we knew from Bangkok weekly meeting.