Champasak, one step from Wat Phou
Champasak town is settled in the center of the Champasak region, but not the capital. That right is for the boring transit city of Pakse. This town is extended through several kilometres on the side of the Mekong river.
It's just a small fisher and farm city, with boats and farm animals all around. But has become more touristically important recently because of the proximity with Wat Phou; this is the reason for the increase of guesthouses on all the main road, all of them with a small familiar restaurant attached. There you can rent or bicycles for riding to Wat Phou in the morning.
The main income, far from the subsistence farm economy, it's the money arrival from tourists. Anyways, due to usually any guesthouse is full, you can easily bargain to 25.000 kips per night.
I will remember you the exchange rate in Laos, where 1 euro is 10.400 kips, so 25.000 kips are more or less 2,5€.
The cost of the meals is more reasonable than in Pakse, so quantity and quality are, but the variety is almost none. It's fun when you start to check the menu in the different guesthouses and restaurant, and after a while you figure it out that they are not just similar… They are the same! The main difference can be the prices, that can change to half from the most expensive to the cheapest ones.
Even with the proliferation of touristic offer, the town remains mainly untouched by the foreigners; so locals still seem curious about Westerns and almost all of them reply you with one big smile, local kids wave you and almost everybody say you hi in Lao (sabaidee) when you cross with them.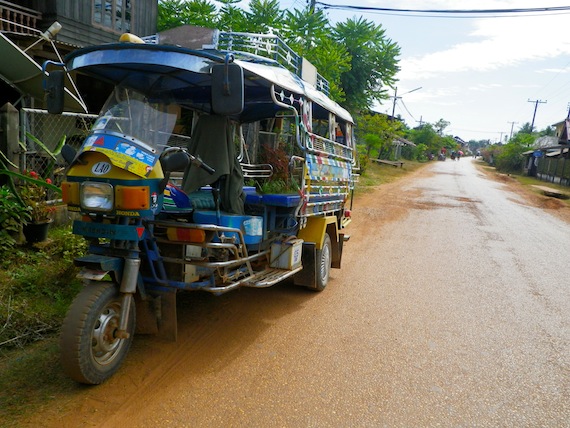 For going to Champasak we headed to the market situated 2 Km from the center of Pakse, where we took one of the local public songthaew for 20.000 kips. I think it's nonsense to take one of the VIP buses for so short trip, and having to pay 2 or 3 times more money for the ticket.
Like most of the tourist, we were there just as stopping place in the way to Wat Phou, but the quietness and kindness of the place and the locals trapped us; so in the end we spent there 2 great nights before heading to Don Det, one of the 4000 Islands in the Mekong.