Crossing the border to Laos
Finally we crossed the border between Thailand and Laos. It was just a while walking, 2 hours and a half hours and 2 shared local songthaews (kindda pick-ups prepared for transporting people). On the first ride we went from Ubon Ratchathani to Phibun for 35 baths/person; and from there to Chong Mek, a small market town on the border, for 40 baths.
After a quick view to the market, we crossed the Thai border without any waiting time and we got inside Laos after paying an extra 50 baths fee. I had read there were not way to avoid it, even after getting our VISA in advance in Bangkok, so I didn't got too pissed off about that.
Once in Laos we just start to refuse all offers and hassling from the van drivers, until we arrived to a further songthaews parking. There we got one ride to Pakse for 50 baths. So, in the end, our trip took us 4 hours and 3 songthaews.
In earlier bargains we got van offers of 80 baths/person, so if you search for more confort without spending a fortune you can get it. Anyways, in those cases, would be better to get the direct bus form Ubon to Pakse for 200 baths.
1 euro is 41,2 Thai baths, so we spent 125 baths on transport that day, around 3 euros.
In most of the first ATMs I found in Pakse I could use my Mastercard, neither any VISA. There were letters offering you to go to the bank and exchange inside, but the fee was a 3%, so I refused the suggestion kindly. Finally I got one ATM which charged 40.000 kips for every withdraw, being the maximum amount 2 million kips; that was a little bit better, 2% fee.
Here we had a new exchange rate. 1 euro are, nowadays, 10.400 kips, so 2 million kips are less than 200 euros.
After checking several times that my maths were fine -so many zeros scare a bit-, I decided to become millionaire! So I put in my pockets 2 million kip in "small" bills, cause the bigger bill the ATM gave was 50.000 kips. Laos is a country with a really devaluated coin; so devaluated, in fact, that there is no coins, just bills. Shops, drivers, guesthouses and restaurants accept Thai baths in all the country with a fare exchange rate. It's able to pay with dollars or euros too, but the rate is much worse usually.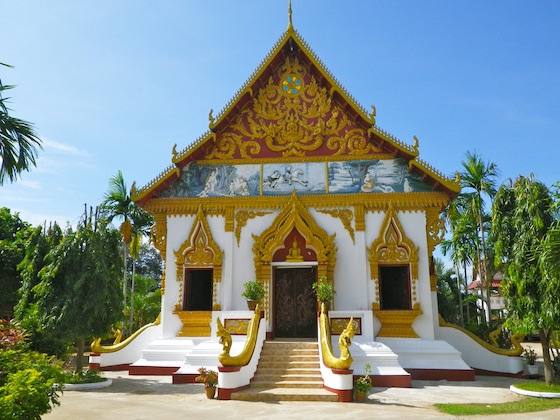 After getting dropped in the 2 Km market of Pakse we went walking all the way the 13 Road asking prices on hotels and guesthouses. In the end we stayed in one called Lankham: being the best accommodation we had in our Asia trip until that moment. Wifi, hot shower, electricity, fan, big and comfy bed, clean and 2 free water bottles every day.
It was a little bit more expensive than what we are used to: 60.000 kips; but the cheapest option was 50.000 kips in a dark and shitty room, so the extra expense deserved this time.