Spain is hilly and huge to cycle around it!
We arrived in Spain, which meant we had to cross the Pyrenees! After one month cycling the flattish France we were not sure how we were going to handle it. We were afraid of the hard climbing, thinking how many breaks we would need and how many days it would take us.
In the end, like anything else in life, it was just a task like any other, and a pleasant ride once you get used to and start to take it easy. Small gear, look around and keep going. Don't worry about the speed, you will get to the top. Sooner or later, later rather than sooner.
We had two summits ahead of us, and after that all the way down to Pamplona. And Zaragoza. Surprisingly, the hardest part were not the mountains, but the flat and boring road direction Zaragoza. The wind took advantage of the lack of obstacles and it made much harder pedaling. But the worse was the arid landscape, and the little entertainment it yield to our eyes.
Cycling to the Mediterranean sea
After Zaragoza we kept riding direction Teruel, easy roads there, and took our first vía verde to the coast, an old coal miner train way that leads direction the Mediterranean sea.
It was early Spring, but for a Latvian girl, the weather was Summerish and we got our first sunburns of the year. Oranges and mandarins were ready for the pick up, but most fields were going to waste. Fruit production in Spain is massive and prices paid by intermediaries are extremely low, so lots of field owners don't even bother to pick up the fruit. That was a treat. We enjoyed the perfectly ripe fruits and turned ourselves freegan.
After the quietness on the miners way, we arrived to Valencia during its craziest days of the year: during las Fallas! A totally-nuts-party were people celebrate making us much noise as possible.
We felt we needed to run away from there, and so we did. But the Mediterranean coast was a bit of a disappointment for these budget bicycle tourers. Everywhere you go, you just find more and more huge buildings. No wild coast, no nature, just construction and man-made coast side. We didn't enjoy it, but we kept delighting ourselves in the orange fields.
In some occasions it was really hard to find a decent spot for camping. That's a problem because wild camping in Spain is not allowed, overnight outdoors sleeping is grey area, and after being kicked out once -and threatened with a fine- we decided we needed to hide properly.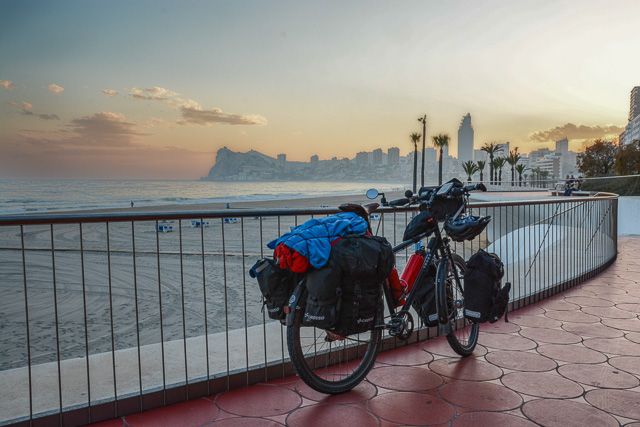 Lucky for us Alicante province finished, and it got a bit quieter, a bit more rural. Less touristic and more wild land. But really dry, we spend one night in a town with the Spanish record as driest city: It can take years without one drop of water from the sky! Suck it England!
Cabo de Gata was beautiful; arid, but beautiful. Really interesting landscape, wild beaches and dirty paths next to the coast. Sometimes too rocky to push on the pedals, which made us get down the bikes and push when cycling next to dangerous cliffs.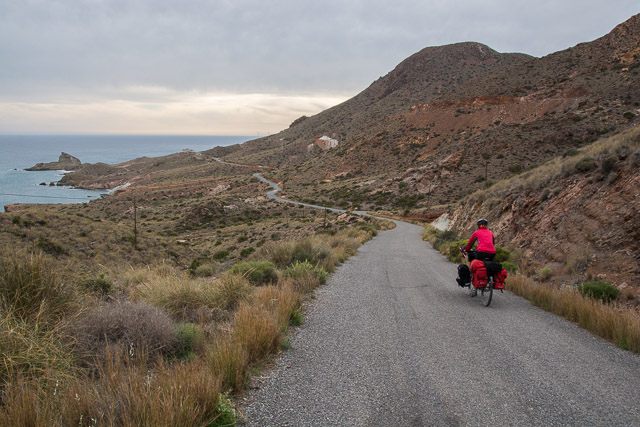 Cycling in the mountains: Sierra Nevada
Next city was Almería, touristic but quiet, sunny but chilly thanks to the wind and proximity with the sea. From the upper part of the city, you could guess the coast line of Africa. But, in the end, it was just another city. We wanted to go back to the mountains, and so we did. There we go Sierra Nevada!
We wanted mountains, and we got them. We cycled the whole Sierra Nevada mountain range across. We spent 5 days climbing up a summit, going down the next one, climbing up again, going down one more time… and camping between almond and olive trees. Yummy almonds by the way!
After 5 days of hard cycling we were happy to reach civilization, and we got to Granada, one of the gems of Spain. We enjoyed the massive portions of tapas -one or two beers and you have had dinner-, and walking around the different neighborhoods.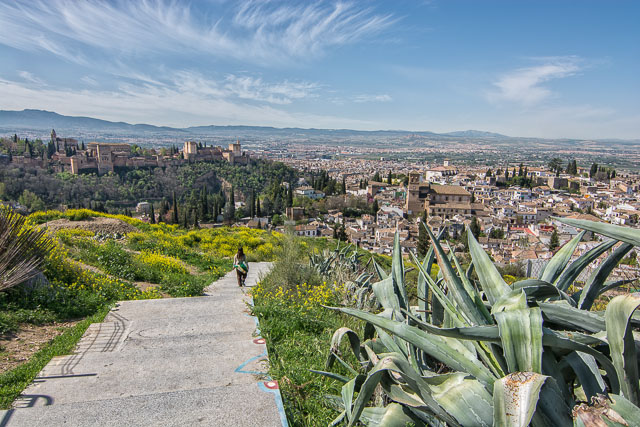 Making plans on the fly
We were planning to get to Sevilla and to Portugal from the South, but we changed them -we really never made them to be fair- and went through the central part of Spain to Madrid.
The only reason to get into the immense capital of Spain was that I had a blogging awards ceremony to attend, the Spanish version of this blog had been chosen as finalist for #Premios20Blogs, the main national blogging competition. Cool, but not enough to win!
We follow some of the Camino de Santiago routes, the Southern ones, the less crowded and more interesting ones; specially because you get some free "albergues" where to spend the night and get a real shower, like human beings.
Madrid and Camino de Santiago to Portugal
Cycling to Madrid we had spend almost 1 month without a proper break, no more than a couple of nights at somebody's place, every day wild camping, wild showering and so on. We really needed to rest and felt human again. So we used the opportunity to stop a bit in Madrid and just do that: take a break.
We ride out of Madrid with more mountains on the way, going to Segovia -famous by their aqueduct and the roast baby pig called cochinillo– and from there to Salamanca. That was our last city in Spain for a little while, since it was time to cross the border with Portugal and try to find the differences between Portuguese and Spaniards. But Salamanca was a great goodbye, a really beautiful old town.
And from there we ride our bicycles out of Spain, crossing the unattended border with Portugal and getting rid of that helmet that was making me feel way too hot under that shiny sun.
See you soon Spain, at least one more time!